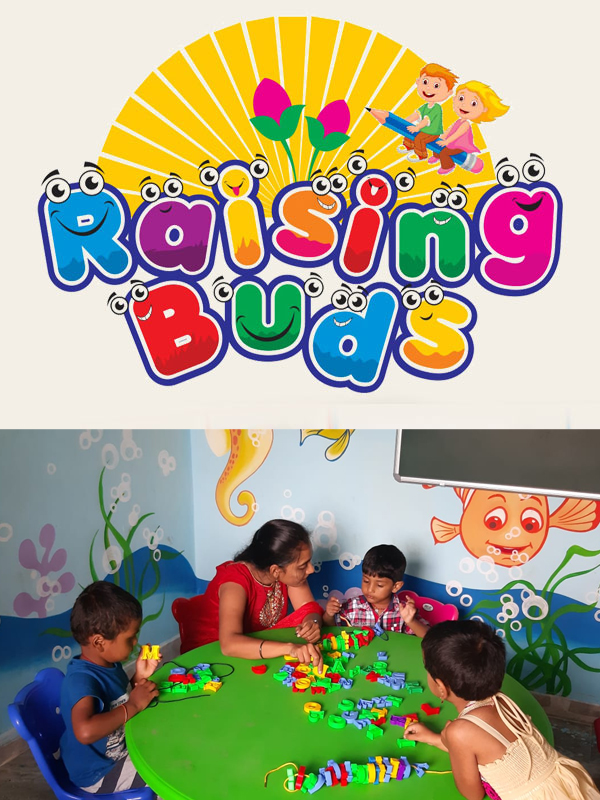 Play Group
The whole idea at Raising Buds is to make learning fun and enjoyable. Our guiding principle for the play group program is to help your child to master the skills needed to succeed in school and in life. Play is the avenue by which a child learns. Children in the play group will be encouraged to sing, dance, play and participate in a number of interesting activities. This program introduces your child to a structured day with stimulating activities, group interaction and numerous opportunities to be inquisitive as they travel along the path to self - discovery.
Children need to feel good about themselves! Positive guidance techniques are used by our staff, to enhance a child's feeling of self worth. Large & small group interaction which helps the children learn to co-operate, listen & share; self selected activities which stimulate cognitive growth & creativity, as well as emotional & social development; and outdoor activities which develop large and small motor skills are nurtured into the child's environment.
Nursery
The activities and themes in the nursery program have more academic orientation. Pre-reading, pre-writing, pre-math and of course social skills too are introduced in this stage in a very imaginative manner. This is their first school experience and special care has been taken to ensure that their school day is full of joyful learning activities which challenge them and develop a love for learning.
The curriculum offers ample scope for art, social interaction and exploring the environment. Listening skills & language build up; singing, dancing, pottery, story time, role-play, cooking, art & craft are all part of the curriculum. Learning experiences appropriate for the development of each group are provided daily. These activities help hone skills in each child
Kindergarten
Our kindergarten programs recognize that children will soon be entering schools that have a range of expectations for a child's social and academic performance. We provide a comprehensive learning-centered approach that challenges children and supports every area of development. We recognize the need for directed, sequential instruction to ensure that children enter first grade with the skills and knowledge expected of them in the school that they will attend
The kindergarten curriculum is adapted to expectations of local CBSE and ICSE schools. Each of the kindergarten learning centres develops expectations and practices in concert with the local schools that the children will be attending. At the same time, the curriculum in every kindergarten homebase builds off the child's knowledge base and skills, learning style, and interests. There is a clear emphasis on the development of strong language, math, and science skills. Important "school skills" of listening carefully, following through on a sequence of tasks, and working cooperatively are reinforced
Details
Period : June - March
Timing : 9.30 AM to 1.30 PM (Junior kg, Senior Kg)
Timing : 9.30 AM to 1.30 PM (Nursery)
Timing : 9.30 AM to 1.30 PM (Play Group)
Age Group : 1.5 to 6 years